Walsh's sponsor and organise a number of community functions during the year, some of which attract thousands of people.

The SOUTH MAROUBRA EASTER BONNET PARADE has been held at the pharmacy every Easter Saturday from 11am-12 noon for more than 20 years. A very lively clown entertains the children & the Easter Bunny bounces along much to the kids delight. The big Easter bonnet parade follows and the boy and girl with judged to have the best bonnets receive a terrific prize. Next on the program is the giant Easter egg hunt so the little ones all collect some eggs and go home happy. This is a fantastic hour's Easter fun for mums, dads and grandparents as well as the kids and something to mark down in the diary for next Easter Saturday.

AUSTRALIA'S BIGGEST CUP OF TEA DAY each May is a big day at Walsh's Pharmacy. You can partake of scrumptious fresh scones, jam & fresh cream while you have a cuppa' and support cancer research. There is afternoon tea as well as a morning tea and a superb classical guitarist plays all day. Tables decorated with beautiful flower displays are set up on the walkway in front of the pharmacy and a very pleasant day I had by all.

RABBITOHS DAY


Held on a Saturday morning during the football season-usually June or July. Three of the South Sydney Rugby League first grade stars,mascot Reggie Rabbit and legends such as Bob McCarthy & Ron Coote. Come to Walsh's for a big,fun Souths morning. There is a rock n' roll band, a charity barbq and the stars sign hundreds of autographs for their fans- particularly the young junior leagers.

October is the month of the ROTARY CLUB OF MAROUBRA FUN RUN/ OKTOBERFEST/ MARKET DAY. This is Maroubra's biggest annual event. It involves the Maroubra & Districts Chamber of Commerce, the Rotary & Lions Clubs of Maroubra and the South Maroubra Surf Life Saving Club. It is held at the surf club and the adjoining Byrne Reserve.

Richard Walsh is the overall organiser of the day. Philip and Richard direct the Run/Walk/Wheel and Walsh's Village Pharmacy is the Gold Sponsor of this "Maroubra Spectacular". The race starts at 9.30am and a giant Oktoberfest, with traditional German music, bratwurst & sauerkraut bar-b-q, camel rides, amusements and dozens of market stalls follows and continues right through the afternoon. Last year's race attracted a record field of 1,012 competitors and 5,000 people attended the Oktoberfest. This is a fantastic Maroubra community day and one to look out for each mid to late October. Funds are raised for the surf club and for various Rotary & Lions Club projects.

For further enquiries please call Richard Walsh on
(02) 9311 0088 or at www.maroubrachamber.com


The SOUTH MAROUBRA VILLAGE GREEN ART SHOW is held at the pharmacy on the second weekend in November. A large marquee is erected on the green opposite the store to house most of the art. More than 300 artists enter and over 700 paintings are displayed. The show is held over 3 days from the Friday to the Sunday. Friday evening is the feature time of the weekend. The official opening is held at 6.30pm with refreshments, savouries and live music. Her Excellency Professor Marie Bashir AM Governor of NSW, Alan Jones, Peter Garrett AM, Bob Carr and Michael Daley MP are some of the people who have opened the show. Legendary caricaturist Tony Rafty has been the judge for many years. There are special children's sections and trophies & prizes are awarded for each section. Funds are raised for the Ageing Research Centre at Prince of Wales Hospital. Marilyn Jeffries is the art director and she can be contacted via the pharmacy. Most paintings are for sale at very reasonable prices. The Mayor of Randwick City presents the prizes at 2pm on the Sunday. This is a most enjoyable weekend with a very friendly atmosphere and something well worth attending, particularly the Friday evening.

For further enquiries please call Richard Walsh on (02) 9311 0088
This event, SOUTH MAROUBRA VILLAGE GREEN ART SHOW falls on
Friday to Sunday 8 -10  November 2013

The SOUTH MAROUBRA COMMUNITY CHRISTMAS CAROLS has been held on the Village Green for 13 years every 23rd December. A big marquee is erected on the green and there is a wonderful Christmas celebration. The show has starred entertainment legends Little Pattie & Col Joye, Helen Zerefos, Monica Trappica, Humphrey Bear and Bananas'n Pyjamas. Fantastic local entertainers support these stars including Felicia Harris, RFTS, St. George's Church-Eastern Suburbs Choir, Despina Lucas, St. George Pipe Band and The Snake Man of La Perouse. Santa of course is always the star of the show and the vivacious compere is Anni Haque. This is a real South Maroubra community night and an ideal opportunity to meet up with family & friends to celebrate the joy of the festive season.

For further enquiries please call Richard Walsh on (02) 9311 0088
This event, SOUTH MAROUBRA COMMUNITY CHRISTMAS CAROLS falls on
Monday 23rd December 2013.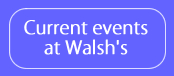 South Maroubra Mothers and Babies Group

Catering for newborns to toddlers. A number of these talks are held through the year.

Experts in various fields give practical advice on children's development.

Tea, coffee, juice and snacks are provided. There is a lucky draw at each session as well as free samples of baby products.

These are terrific, informative gatherings where you can meet other mums, discuss issues affecting kids, generally network and have an enjoyable morning or evening.